What is Pinnacle Game Profiler?
Pinnacle is a software program that enables you to play your favorite games with any gamepad, joystick, or another type of game controller. Pinnacle comes preconfigured for most popular game titles and gamepads, which means setup is quick and easy. As new games or software updates are released, they are effortlessly installed with a point and click.
Pinnacle is also a game launching platform, allowing you to categorize your games and launch them from the taskbar. Alternatively, the program has the ability to detect when games are launched, automatically configuring your desired controller for play. No extra steps are required.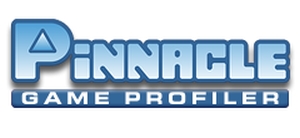 Supported Controllers
Pinnacle supports any game controller that works with a PC. This not only includes standard gamepads, joysticks, yokes, throttles, and racing wheels from manufacturers like Saitek, Logitech, MaCatz, Belkin, and Thrustmaster, but it also means that you can use popular console-style controllers such as Xbox 360, PS3 SixAxis, Wiimote, original Xbox, PS2, Playstation, and many more.
If it works with Windows, it works with Pinnacle Game Profiler.
Supported Games
Pinnacle comes preconfigured for hundreds of up-to-date game titles for use with virtually any gamepad. No configuration necessary. Just click, download, and play.
Profile Authoring Tools
Pinnacle offers a comprehensive suite of features for building and modifying custom game profiles:
Take advantage of full emulation capabilities: keyboard, mouse, controller. With Pinnacle, any device can emulate another.
Use specialized gaming features like sniper assistant, rapid-fire buttons, force-feedback controls.
Make any button do anything, even the Guide button on Xbox 360 and similar controllers.
Do more with buttons and controls using our patented double-commands, cycles, toggles, multiple shift states, and unlimited macro capabilities.
Get more out of analog controls by inverting axes, adjusting sensitivity on-the-fly, and using Pinnacle's analog-to-digital conversion capabilities (e.g., walk or run depending on how far you tilt a joystick).
Control 3rd party apps while you're gaming: push-to-talk or video capture on any button.
Design profiles to control Home Theater PCs, multimedia apps, volume, screen resolutions, and Microsoft Windows.