Windows Desktop - Use on PC with a PS4 Gamepad
instantly add PlayStation 4 controller support to any PC software - PS4 Dual Shock wired or wireless
PS4 controllers work on most PC games, but Windows Desktop may not support it properly.
Pinnacle Game Profiler can solve all your controller problems. Guaranteed.
Just click the button below to download the Pinnacle Game Profiler software, which includes
a pre-made profile to add PS4 gamepad support to Windows Desktop. Simple.
If you have any questions or need any help, please email us: support@pinnaclegameprofiler.com
Use your PS4 controller on a PC
Software supports any gamepad
Easy to setup in a few minutes
Advanced customization options
"Pinnacle Game Profiler (PGP) is, in essence, the best game controller programming
software in the world."
- DownloadSquad (HuffPost Tech)
---
| | | |
| --- | --- | --- |
| Windows Desktop profile | | |
This profile is compatible with any standard PC Gamepad, Xbox 360 Controller, Playstation (PS4, PS3, PSX), or any similar devices
This is my windows profile that I use for windows. Thus allowing me to use my 360 controller as a remote
Controls:
Pad Left: Arrow Left
Pad Right: Arrow Right
Pad Up: Volume up
Pad Down: Volume down
Sticks:
Left Stick: Mouse
Left Stick Button: Double Click
Right Stick: None
Right Stick Button: Right Click
Buttons:
A: Left Click
B: Close Window
X: Alt-Tab
Y: Enter
Start: Windows Key
Back: Backspace
Right Button: Switch Desktop Right
Right Trigger: On screen keyboard
Left Button: Switch Desktop Left
Left Trigger: Caps Lock
Desktop Switchers require Yod'm 3D (
http://chsalmon.club.fr/index.php?en/Download
)
Updated.
(Feel free to give me feed back on what you think, I actually prefer it.)
The first thing you should know that I am very lazy when it comes to working with windows (sometimes you just want to relax), I watch movies, surf the web, and talk on vent, all while laying sideways on my couch without moving more than my thumbs.
This is a Windows Controller profile, it should work for all windows Operating systems. I have been using this controller layout for months so I know it is easy to use, I have optimized this as much as possible to go with any basic windows function as well as functionality for other programs that are used throughout the day to allow you to be lazy as possible, you should never have to pick up the keyboard and mouse as long as you aren't playing a game or using intricate programs like Photoshop or other graphic programs in like it.

Button Mappings and explanations
Left Trigger - Right Mouse Click Button
Right Trigger - Left Mouse Click Button
Left Bumper - Volume Down (see note 1 for explanation)
Right Bumper - Volume Up (see note 1 for explanation)
Y Button - Page Refresh (see note 2 for explanation)
X Button - Alt + Tab Combo (see note 3 for explanation)
A Button - Play/Pause for Media Players (see note 4 for explanation)
B Button - My Computer (see note 5 for explanation)
Left Thumb-stick Click - Home
Left Thumb-stick Up - Fast Scroll Up (see note 6 for explanation)
Left Thumb-stick Down - Fast Scroll Down (see note 6 for explanation)
Left Thumb-stick Left - Scroll Left (see note 7 for explanation)
Left Thumb-stick Right - Scroll Right (see note 7 for explanation)

Right Thumb-stick Click - Left Shift (see note 8 for explanation)
Right Thumb-stick - Mouse Movement

Back Button - Tilde/Accent (see note 9 for explanation)
Start Button - Escape (see note 10 for explanation)

Button Explanations

**Note 1**For the Right and Left bumpers I decided to make them volume buttons because the controller needed some volume controls and it seemed like a good fit, I tried them in other positions like up and down and left and right on D pad but this seemed to be easier to do.

**Note 2**For the Y button I needed a website refresh button because some web pages just don't load on the first try due to cache or bad cookies so it seemed like it was needed.

**Note 3**For the X button I mapped it to Alt and the Tab button because this is the universal buttons for switching from a Full screen program to the previous program, I kept finding myself needing it after getting messages and things while watching movies and the only way to check them were to exit full screen then look so this was the solution.

**Note 4**For the A button I mapped it to the Play and Pause buttons in media players its a toggle styled button so if its paused and you click it, it will play and vice versa. I made it because if I wanted to go to the restroom while watching movies I would have to move the mouse to the button on screen and I didn't want to have to deal with it, so I just made it a click and go feature.

**Note 5**For the B button I mapped the My Computer feature from windows to it, I like to be able to watch media from my External hard drive and I found myself more times than I can count either having to click through the menus from the start menu or moving my mouse down to the folder symbol to open it, pressing B was faster and easier.

**Note 6**For the Left Thumb-stick Up and Down I mapped it for just scrolling Up and Down the page faster than the D pad scrolling I put in, I used the arrows instead of the scroll so its faster and you can just hold the button down or up to get it to fast scroll down or up.

**Note 7**For the Left Thumb-stick Left and Right if you hold left or right it will scroll left or right. I did that because some pages are wider than your monitor and rather than having to manually click the side scroll bar and moving it, this was easier and felt more natural.

**Note 8**For the Right Thumb-stick Click, I mapped it to the Left Shift button, I did this to enhance my laziness, rather than having to highlight large amounts of text, with this button you can select the first letter of the text you want to copy then go to the very end and hold the thumb-stick in and right click the last letter and it will highlight everything and allow you to copy/paste that text anywhere else.

**Note 9**For the Back Button I made it the Tilde/accent key at the top right of your keyboard (the squiggly line). I did this because if you are like me you use Voip programs like Ventrilo, Teamspeak, or RaidCall and when I am talking to people I surf the net using a controller sitting back on my couch, so having a push-to-talk button mapped to the controller was an excellent feature to allow this.

**Note 10**For the Start Button I mapped it to the Escape key. The reason I did that was so I could leave full-screen video and select other programs quicker.
DOWNLOAD HERE
First profile I've made, but seem to have it pretty down. Anything labeled after a slash [ / ] has to be held for 0.3 seconds to enable that effect. I am under assumption the user uses the latest version of Firefox and iTunes for the media keys and has Windows Vista Ultimate with Aero Flip-3D enabled. The "Hold Context Menu" is essentially a right click, but closes the context menu if the button is let go. As you can see I use a Wireless Xbox 360 Controller to make it all happen. Though I'm sure it can be switched around to work on most. I made this profile mainly for lazy web browsing + ability to have moderate control over music.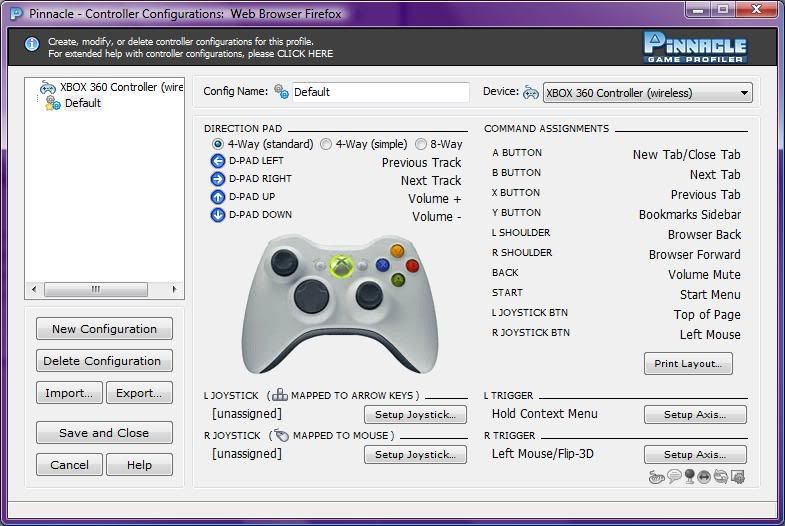 I've been working on this profile design since before I even bought a controller. I am pleased with it so far. If you have any suggestions for it, let me know. Feel free to modify it to suit your needs.
This Profile is for Use with Windows Vista and a Xbox 360 Controller.
It includes buttons for Aero 3D Window swicthing, Media Center, Speech Recognition (easy access center) and much more.
To get the most out of using your Vista Computer It is recommend that you plug a MicroPhone into your 360 Controller to utilize the Speech Recognition that is included with Vista.
Make sure you are running the latest Version Of pinnacle then Click "GAME PROFILES" then click "Import" open Vista360 and save.
Inorder for this to run correctly you need to Select "PREFERENCES" from the main Pinnacle screen, and select "RUN BACKGROUND PROFILE" Choose "Vista360" and OK.
Note: The On-Screen Keyboard included with Windows Vista MAY cause the Controller to become inactive while clicking the Minimize,Expand or Close Button On the Vista On-screen-KeyBoard (OSK.EXE) If you Experiance this issue Simply click anywhere on the desktop and the
controller will become active again. This issue is only with Vista's on-screen-keyboard and is not a programming error. To Avoid this you can Install the Virtual Keyboard Listed below.
OPTIONAL:
By Default I set this profile to use "Vista's On Screen Keyboard" HOWEVER I Highly Recommend that you download and install "Click-N-Type" which not only works flawless but includes many more features then Vista's on screen keyboard.
Click-N-Type Is Free and can be downloaded at
http://cnt.lakefolks.com/
Installation:
Download the CNTzip.exe installation program, Before installing right click CNTZIP.EXE and select "Properties" then click Compatabilty, Choose "WindowsXP SP2" for Compatabilty mode and click "Apply".
Now run it and follow the instructions.
This Virtual Keyboard Also has a option for Word Prediction. What this does is after typing 2 letters it shows a list of words that you are most likely going to type, at which point you just have to click the word in the list instead of typing the rest of the of the word manualy. To Enable this Feature Simpley download the setup file Called "WORDS.EXE" and
install. This add-on is also free and located on the same Web page directly below Click-N-Type (CNTzip.exe ).
After you have installed Click-N-Type Open Pinnacle And the Vista360 Profile, Left Click the "VISTA OSK" and Select "Assign Command" then "ADD ON PROGRAMS" and finaly "Click-N-Type" Save and run the profile.
No, I'm not trying to rip off PGP, P62 is one of my identifiers.

Anyway, this is just the background profile I use 90% of the time.
alternate profiles for this game
| | | |
| --- | --- | --- |
| | | |
| | | |
| | | |
| | | |
| | | |