Guild Wars - Play with a PS4 Gamepad
(on your PC)
instantly add PlayStation 4 controller support to any PC game - PS4 Dual Shock wired or wireless
PS4 controllers work on most PC games, but Guild Wars may not support it properly.
Pinnacle Game Profiler can solve all your controller problems. Guaranteed.
Just click the button below to download the Pinnacle Game Profiler software, which includes
a pre-made profile to add PS4 gamepad support to Guild Wars. Simple.
If you have any questions or need any help, please email us: support@pinnaclegameprofiler.com
Use your PS4 controller on a PC
Software supports any gamepad
Easy to setup in a few minutes
Advanced customization options
"Pinnacle Game Profiler (PGP) is, in essence, the best game controller programming
software in the world."
- DownloadSquad (HuffPost Tech)
---
| | | |
| --- | --- | --- |
| Guild Wars profile | | |
This profile is compatible with any standard PC Gamepad, Xbox 360 Controller, Playstation (PS4, PS3, PSX), or any similar devices
My Attempt at a Guild Wars profile for the XBOX 360 controller.

Its more of a edited version of a profile already on here, i would credit them here but i can't remember who's.

If anyone wants to be a friend on Guild Wars please feel free to PM me here.

Thanks roders
Yea, I know what your thinking... That would be uncomfortable to play with a 360. But the thing is, It really isn't. This is by far one of the most unique configurations I've ever seen. This was made by me.
First Download Pinnacle Game Profiler (if you haven't already) -
http://www.pinnaclegameprofiler.com/pinnacle-setup.exe
Install it. Start it and goto game profile. Select Goto new and find GW.exe
Next select "Edit Configuration." Import my configuration found below. Enjoy!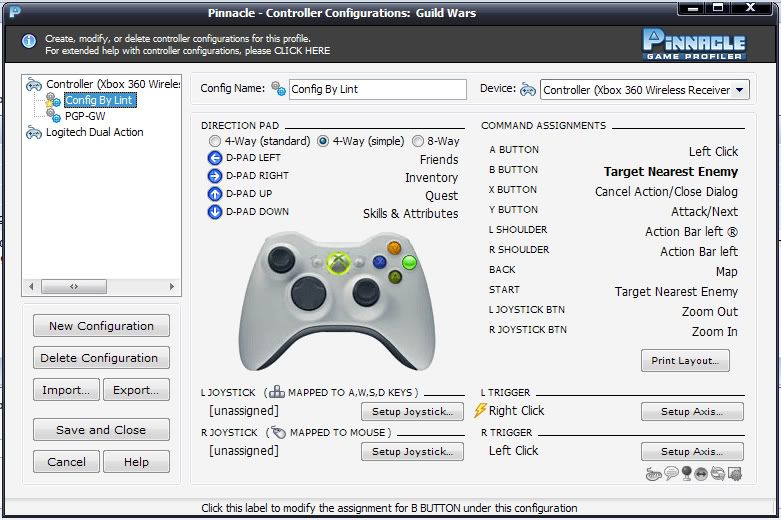 -Controls-
D-Pad Left
Friends Panel
D-Pad Right
Inventory
D-Pad Up
Quest
D-Pad Down
Skills & Attributes
A Button
Left Click
B Button
Target Nearest Foe
X Button
Cancel
Y Button
Attack
L Button Action Bar
Right
R Button Action Bar
Left
Back
Map
Start
Target
L Joystick BTM
Zoom Out
R Joystick BTM
Zoom In
L Jostick
W.A.S.D Keys
R Joystick
Mouse
L Trigger
Right Click
R Trigger
Left Click
[quote]
L Button Action Bar
Right
R Button Action Bar
Left
[/quote]
NOTE
Resolution must be set to 1280x1024 and the skill bar must be in its default location. Also the scale must be set on normal (Its in Video Options Menu)
This is what Makes this unique.
When you hit
L Button Action Bar
once, it will goto skill 1. In order to activate it press A or left tigger. Press it again then it will goto skill two. Again then skill 3 and so on. Press
R Button Action Bar
once, it will go back one. This makes it so much more comfortable to play.
Well, I hope you guys like it! Enjoy!
posted on guildwarsguru under the username Lint
Well I finally got a free trial for Guild Wars, and I made up what I think is probably a pretty good profile... but right after I finished my profile and started getting the hang of the game... my Guild Wars trial expired... so I didn't get to test this as well as I would have liked.

Anyway, I would REALLY APPRECIATE some feedback from some Guild Wars players to let me know if the profile works well and if they would make any improvements then please suggest them. Since this game uses a "hold right mouse button and move mouse" style of camera movement, yet the mouse is still needed to click around in the world, I decided a "toggle free look" method was the best where you press a button (R SHOULDER) to toggle between moving the mouse and turning the camera. Please let me know how this works for you. Also I have a shift button (L SHOULDER) that when held allows the DPAD and 4 face buttons to trigger SKILLS 1-8, but as I mentioned above, I really didn't get too far in the game before I wasn't allowed to play anymore. But some other users had created profiles that use this sort of "shift for skills" kind of setup, so I figured I would do the same.

So please post your feedback about what you like and don't like about this profile so I can improve it if neccessary. Thanks!
I've been using this profile for awhile now, but just haven't got around to posting it. I found that it takes a few hours to get completely used to, but once you are, your battle movements and skill uses are fairly quick (which is importnat when playing a game where you advance using your skill instead of just battle experience).
This one is fairly complex.

To make things easy, you will need two config files.

Example for the best setup using a PS2 type controller:

Skills 1-4: The four shoulder buttons respectively (Config 1 only)
Skills 5-8: The four shoulder buttons respectively (Config 2 only)
Square Button: Hotswap to Config 2 (Config 1 only)
Square Button: Hotswap to Config 1 (Config 2 only)


All of the other controls apply to both Configs.

Left Joystick: Mapped to Arrow Keys (Movement)
Right Joystick: Mapped to Mouse
D-Pad Left: Previous Target
D-Pad Right: Next Target
D-Pad Down: Target Self
D-Pad Up: Target closest enemy
Select: Inventory
Start: Map
X button: Attack/Talk/Default Action
O Button: Target Nearest NPC
Triangle Button: Close Dialog/Cancel


You can of course configure the two Configs however you like, but I find this to be easiest, still takes a little getting used to, but it gets comfortable easily.
alternate profiles for this game
| | | |
| --- | --- | --- |
| | | |
| | | |
| | | |
| | | |