Fix controller support for "Microsoft Windows"
(Xbox, PlayStation, MadCatz, Logitech, Saitek, etc)
This is my windows profile that I use for windows. Thus allowing me to use my 360 controller as a remote
Controls:
Pad Left: Arrow Left
Pad Right: Arrow Right
Pad Up: Volume up
Pad Down: Volume down
Sticks:
Left Stick: Mouse
Left Stick Button: Double Click
Right Stick: None
Right Stick Button: Right Click
Buttons:
A: Left Click
B: Close Window
X: Alt-Tab
Y: Enter
Start: Windows Key
Back: Backspace
Right Button: Switch Desktop Right
Right Trigger: On screen keyboard
Left Button: Switch Desktop Left
Left Trigger: Caps Lock
Desktop Switchers require Yod'm 3D (
http://chsalmon.club.fr/index.php?en/Download
)
Updated.
First profile I've made, but seem to have it pretty down. Anything labeled after a slash [ / ] has to be held for 0.3 seconds to enable that effect. I am under assumption the user uses the latest version of Firefox and iTunes for the media keys and has Windows Vista Ultimate with Aero Flip-3D enabled. The "Hold Context Menu" is essentially a right click, but closes the context menu if the button is let go. As you can see I use a Wireless Xbox 360 Controller to make it all happen. Though I'm sure it can be switched around to work on most. I made this profile mainly for lazy web browsing + ability to have moderate control over music.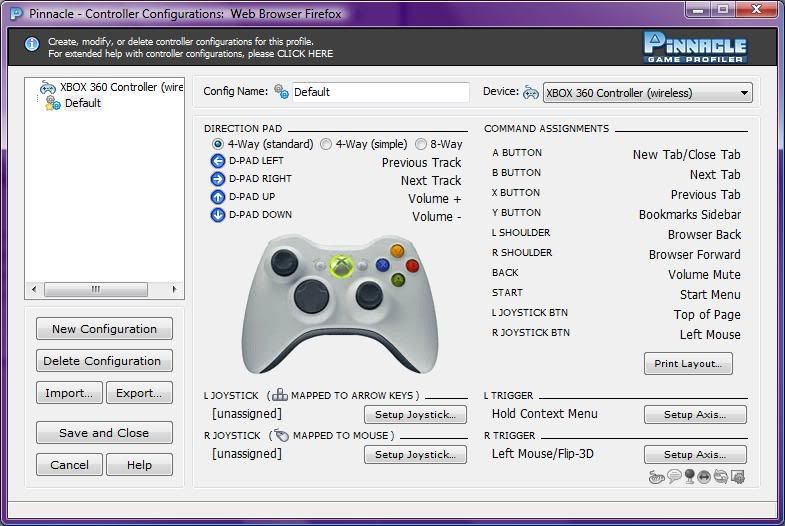 I've been working on this profile design since before I even bought a controller. I am pleased with it so far. If you have any suggestions for it, let me know. Feel free to modify it to suit your needs.
This Profile is for Use with Windows Vista and a Xbox 360 Controller.
It includes buttons for Aero 3D Window swicthing, Media Center, Speech Recognition (easy access center) and much more.
To get the most out of using your Vista Computer It is recommend that you plug a MicroPhone into your 360 Controller to utilize the Speech Recognition that is included with Vista.
Make sure you are running the latest Version Of pinnacle then Click "GAME PROFILES" then click "Import" open Vista360 and save.
Inorder for this to run correctly you need to Select "PREFERENCES" from the main Pinnacle screen, and select "RUN BACKGROUND PROFILE" Choose "Vista360" and OK.
Note: The On-Screen Keyboard included with Windows Vista MAY cause the Controller to become inactive while clicking the Minimize,Expand or Close Button On the Vista On-screen-KeyBoard (OSK.EXE) If you Experiance this issue Simply click anywhere on the desktop and the
controller will become active again. This issue is only with Vista's on-screen-keyboard and is not a programming error. To Avoid this you can Install the Virtual Keyboard Listed below.
OPTIONAL:
By Default I set this profile to use "Vista's On Screen Keyboard" HOWEVER I Highly Recommend that you download and install "Click-N-Type" which not only works flawless but includes many more features then Vista's on screen keyboard.
Click-N-Type Is Free and can be downloaded at
http://cnt.lakefolks.com/
Installation:
Download the CNTzip.exe installation program, Before installing right click CNTZIP.EXE and select "Properties" then click Compatabilty, Choose "WindowsXP SP2" for Compatabilty mode and click "Apply".
Now run it and follow the instructions.
This Virtual Keyboard Also has a option for Word Prediction. What this does is after typing 2 letters it shows a list of words that you are most likely going to type, at which point you just have to click the word in the list instead of typing the rest of the of the word manualy. To Enable this Feature Simpley download the setup file Called "WORDS.EXE" and
install. This add-on is also free and located on the same Web page directly below Click-N-Type (CNTzip.exe ).
After you have installed Click-N-Type Open Pinnacle And the Vista360 Profile, Left Click the "VISTA OSK" and Select "Assign Command" then "ADD ON PROGRAMS" and finaly "Click-N-Type" Save and run the profile.
No, I'm not trying to rip off PGP, P62 is one of my identifiers.

Anyway, this is just the background profile I use 90% of the time.
alternate profiles for this game
| | | |
| --- | --- | --- |
| | | |
| | | |
| | | |
| | | |