Worms Armageddon - Play with a Gamepad or Joystick
controller support for any PC Gamepad, Xbox 360 Controller, PS3 or PS4 Controller, PlayStation Controller, etc
You are probably having trouble playing Worms Armageddon with your gamepad or joystick.
Pinnacle Game Profiler can solve all your controller problems. Guaranteed.
Just click the button below to download the Pinnacle Game Profiler software, which includes
a pre-made profile for Worms Armageddon controller support. Simple.
If you have any questions or need any help, please email us: support@pinnaclegameprofiler.com
Supports any game controller
Easy to setup in a few minutes
Advanced customization options
Help from dedicated support team
"Pinnacle Game Profiler (PGP) is, in essence, the best game controller programming
software in the world."
- DownloadSquad (HuffPost Tech)
---
| | | |
| --- | --- | --- |
| Worms Armageddon profile | | |
This profile is compatible with any standard PC Gamepad, Xbox 360 Controller, Playstation (PS4, PS3, PSX), or any similar devices
Hi,
This is my first Game profile made for Worms Armageddon PC version
#############################LAYOUT: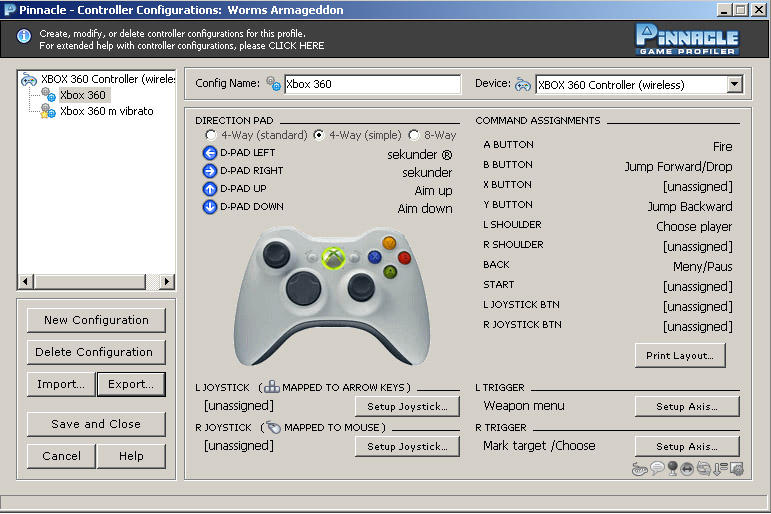 #############################
Whats missing?
Well the bloody letters if you want to create own teams and so forth... but I would guess that does who play this game now don't take the game so serious...
enjoy!
You are free to comment on this profile..but it does not meen that I will update it cause of that.
#############################Creeds
My 11 year old sister as a tester..
#############################Additional Links:
DEMO is found:
http://wormsarmageddon.team17.com/main.html?page=good&area=demo
XP patch is found:
http://wormsarmageddon.team17.com/main.html?page=supp&area=welc