Fix controller support for "Guild Wars"
(Xbox 360, PS3, PSX, Razor, Cyborg Rumble, etc)
My Attempt at a Guild Wars profile for the XBOX 360 controller.

Its more of a edited version of a profile already on here, i would credit them here but i can't remember who's.

If anyone wants to be a friend on Guild Wars please feel free to PM me here.

Thanks roders
Yea, I know what your thinking... That would be uncomfortable to play with a 360. But the thing is, It really isn't. This is by far one of the most unique configurations I've ever seen. This was made by me.
First Download Pinnacle Game Profiler (if you haven't already) -
http://www.pinnaclegameprofiler.com/pinnacle-setup.exe
Install it. Start it and goto game profile. Select Goto new and find GW.exe
Next select "Edit Configuration." Import my configuration found below. Enjoy!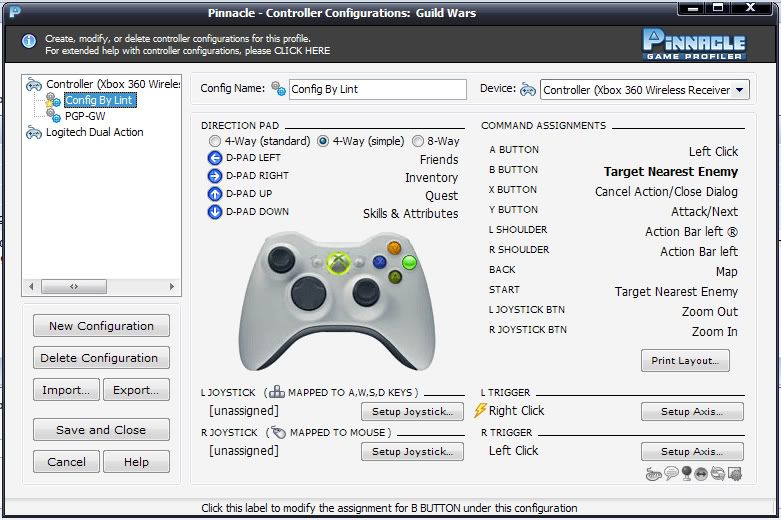 -Controls-
D-Pad Left
Friends Panel
D-Pad Right
Inventory
D-Pad Up
Quest
D-Pad Down
Skills & Attributes
A Button
Left Click
B Button
Target Nearest Foe
X Button
Cancel
Y Button
Attack
L Button Action Bar
Right
R Button Action Bar
Left
Back
Map
Start
Target
L Joystick BTM
Zoom Out
R Joystick BTM
Zoom In
L Jostick
W.A.S.D Keys
R Joystick
Mouse
L Trigger
Right Click
R Trigger
Left Click
[quote]
L Button Action Bar
Right
R Button Action Bar
Left
[/quote]
NOTE
Resolution must be set to 1280x1024 and the skill bar must be in its default location. Also the scale must be set on normal (Its in Video Options Menu)
This is what Makes this unique.
When you hit
L Button Action Bar
once, it will goto skill 1. In order to activate it press A or left tigger. Press it again then it will goto skill two. Again then skill 3 and so on. Press
R Button Action Bar
once, it will go back one. This makes it so much more comfortable to play.
Well, I hope you guys like it! Enjoy!
posted on guildwarsguru under the username Lint
Well I finally got a free trial for Guild Wars, and I made up what I think is probably a pretty good profile... but right after I finished my profile and started getting the hang of the game... my Guild Wars trial expired... so I didn't get to test this as well as I would have liked.

Anyway, I would REALLY APPRECIATE some feedback from some Guild Wars players to let me know if the profile works well and if they would make any improvements then please suggest them. Since this game uses a "hold right mouse button and move mouse" style of camera movement, yet the mouse is still needed to click around in the world, I decided a "toggle free look" method was the best where you press a button (R SHOULDER) to toggle between moving the mouse and turning the camera. Please let me know how this works for you. Also I have a shift button (L SHOULDER) that when held allows the DPAD and 4 face buttons to trigger SKILLS 1-8, but as I mentioned above, I really didn't get too far in the game before I wasn't allowed to play anymore. But some other users had created profiles that use this sort of "shift for skills" kind of setup, so I figured I would do the same.

So please post your feedback about what you like and don't like about this profile so I can improve it if neccessary. Thanks!
I've been using this profile for awhile now, but just haven't got around to posting it. I found that it takes a few hours to get completely used to, but once you are, your battle movements and skill uses are fairly quick (which is importnat when playing a game where you advance using your skill instead of just battle experience).
This one is fairly complex.

To make things easy, you will need two config files.

Example for the best setup using a PS2 type controller:

Skills 1-4: The four shoulder buttons respectively (Config 1 only)
Skills 5-8: The four shoulder buttons respectively (Config 2 only)
Square Button: Hotswap to Config 2 (Config 1 only)
Square Button: Hotswap to Config 1 (Config 2 only)


All of the other controls apply to both Configs.

Left Joystick: Mapped to Arrow Keys (Movement)
Right Joystick: Mapped to Mouse
D-Pad Left: Previous Target
D-Pad Right: Next Target
D-Pad Down: Target Self
D-Pad Up: Target closest enemy
Select: Inventory
Start: Map
X button: Attack/Talk/Default Action
O Button: Target Nearest NPC
Triangle Button: Close Dialog/Cancel


You can of course configure the two Configs however you like, but I find this to be easiest, still takes a little getting used to, but it gets comfortable easily.
New Guild Wars 2 control scheme for your PS3 or Xbox controller!
Version 1.2

This control scheme was built using Toddmd2's profile as a starting template. I quickly saw some things I wanted to change - especially the ground targeting. I put together this new profile to keep all the commands laid out in a simple one button press fashion (apart from a few commands) and it has achieved a somewhat smoother gameplay. I also wanted to include a way to control the Map and UI with fear that the mouse would eventually take over again. Please see below for the control schemes. I will do my best to ease you into this new layout. If you have the urge to contact me, please do!!
Features:
[LIST]
[*]Built using Relative Mouse movements - No coordinate or resolution adjustments needed. Minimal setup required.
[*]"Combat Mode" like Action,
see the video
. Hit whatever is in front of you - No targeting required! Works great with or without fast-casting!
[*]Intuitive design allows for combat to be much, much smoother. No more waiting for your abilities to cast or worrying about your ground targeting mouse. Instantly use the skill you want to, when you want to at what you want to!
[*]Map Panning controls! Also included are "paging controls" - move your map one screen over with a touch of a button!
[*]Simple Menu and UI controls
[*]Some emotes :)
[/LIST]
Setup:
This control scheme works BEST with a fullscreen (non-windowed) or single monitor setup.
Please start mapping keys after setting your controls to DEFAULTS.
Control Options:
[LIST]
[*]"Stow\Draw Weapon" -> Z
[*]"Town Clothes" -> .
[*]"Mail" -> L
[*]"Lock Auto Target" -> X
[*]"About Face" -> U
[*]"Look Behind" -> C
[/LIST]
General Options:
[LIST]
[*]Double-Tap to Evade -> OFF
[*]Autotargeting -> ON
[*]Stop Autoattacking on Target Change -> ON
[*]Sensitivity -> 100% (recommended)
[*]Autoloot -> ON (recommended)
[*]Invert Camera Y-Axis -> ON (optional)
[*]Double-Click to Attack/interact -> ON (optional)
[/LIST]
Pinnacle:
The World Map profile is separate from the Combat & Systems profile. Although it is optional to include the World Map, it includes a panning feature for the map, which may be helpful in the fight against mouse and keyboard. You will need to remap the profile switch commands in both profiles – which are in the [Select] buttons on both profiles.
Controls:Starting up for the first time:
When you begin gameplay, you will want to tap the [Guide] button on your controller to engage the camera functionality. Tap it again to disengage the camera.
During combat, aim your camera at what you want to attack, press the skill/ability you would like to cast and it will target the foe in front of you automatically. Ground casting spells work similarly by aiming your camera at the spot you would like to cast at.
Combat & Defaults:
The Weapon Skills & some default mappings:
Likewise, your Utility, Healing, Elite and Professional Abilities are mapped to the same buttons as your Weapon skills using Pinnacle's "Shifts". See the diagrams below:
*In some instances you may need to interact or do a basic left-click.
[LIST]
[*]To Interact, click and hold the [Right Stick] - Can be held longer to repeat.
[*]Clicking [Right Stick] will perform a Left-Click
[/LIST]
Map:
Press [Select] for the Map. This system was built from the ground up with panning in mind. To engage Panning – Click and Hold the [Right Stick]. Please enjoy:
*A note about Map Travel / Respawning: After traveling or respawning, your character may be 'jumping'. The 'jumping' is a result of the Map controls still being in effect.
If this occurs, press [Guide] to capture the Camera - then resume gameplay.
As a workaround, you may press [Select] during the loading screen.
Menus:
Press [Start] for the Menus. The menu system was designed to carousel through several presets. Press [L] or [R] to slide through the window presets. By default, the first menu that opens is the Inventory, and the inventory stays open for the duration. The Pet Menu is available through the default combat interface, by pressing [D-Pad Right].
Advanced Controls:
Below is a list of controls that weren't included above:
[LIST]
[*]Emotes -> Hold [LT] + [D-pad]
[*]Stow/Draw Weapon -> While in Panel view, [D-Pad Right]
[/LIST]
Changelog:

Version 1.2
[LIST]
[*]Removed Walk auto-toggle. This was required to be done since being defeated or dying would reset the toggle, inverting walk->run to run->walk
[*]Camera & Reset [Guide] button fixed to require less presses
[*]Interact has been switched to allow you to hold to repeat interactions (this is useful for multiple loots)
[/LIST]
Version 1.1
[LIST]
[*]Changed [Left Stick] movement to defaults
[*]Combined the [Guide] Button and RESET function into one button - this is to ease transition from map warping and death to normal combat view
[*]Removed RESET function from [Select]
[*][LT] + [A] changed to Swap/Drop Bundle - there are some instances where having an extra Swap weapon button under the Professional Abilities Shift make's play more accessible (IE Warrior Burst Attacks)
[*]Draw/Sheathe Weapon moved to Panel [D-Pad Right]
[*]Increased Sensitivity by 5%
[/LIST]
Version 1.0
[LIST]
[*]Initial Release :D
[/LIST]
References & THANKS!:
[LIST]
[*]
Toddmd2's original controls
for an immaculate starting template
[*]
PVPproject's "Combat Mode"
for the Targeting ideas
[*]
Guild Wars 2
by Arena Net
[*]PGP - Special Thanks to Rob and Errol for the help
[*]Also, Zelda 64 and Grand Theft Auto for the control ideas
[/LIST]
This profile is a subset of toddmd2 guild wars 2 combat controller profile, I have reconfigured for complete controller support. The "My Wireless" profile has extended functionality beyond combat, without implementing an entirely new button mapping scheme.

Changes and Additions:
[LIST]
[*]Left stick button is now the Shift blue modifier with one-click hold
[*]Left trigger is now dodge/heal (much easier while moving)
[*]While in shift blue mode, hold double commands have user panels such as trade post, inventory, contacts, hero, and guild.
[*]Full mouse pointer control while in shift blue mode.
[*]Shift blue mode now offers zoom in/out with up and down dpad buttons, for map and world.
[*]Single left click and right click while in shift blue mode
[*]Cursor snap to grid is preconfigured for 1920x1080 resolution, if a lower resolution is needed simply change the "goto Coordinates" in movement>camera control commands (take your resolution and divide the numbers by 2, which will place pointer in the center of your screen)
[/LIST]

These are the most important changes and additions; I currently play GW2 with this profile all the time for both thief and engineer professions. This profile will eliminate any need for mouse input, you'll only need a keyboard for chatting in-game. As always if you have any feedback relative to this build and improving it, please post. Otherwise I hope you enjoy this profile as much as I do :oops:
Guild Wars 2 SettingsGeneral
In addition to the default settings I suggest to
[LIST]
[*]Deactivate "Double-Tap to Evade"
[*]Activate "Auto Loot"
[*]Activate "Show All Enemy Names"
[*]I suggest a "Camera Rotation Speed" between 0% and 50%. (Right now I use 25% myself)
[*]You should consider to experiment with the stop auto attack on target change, the auto target settings and the "Lock Auto Target" toggle key which is mapped by the profile.
[/LIST]
Keyboard Profile
This keys are not mapped to a default key by arenanet, but are used in the profile and should be mapped anyway! Rest as set by default.
Movement > Walk
Insert
Movement > About Face
End
Targeting > Nearest Enemy
C
Targeting > Nearest Ally
L
Targeting > Next Ally
X
Targeting > Lock Auto Target
;
[Semicolon] [Qwertz: Ü]
User Interface > Mail
4
(numpad)
Camera > Look Behind
Home
[Qwertz: Pos1]
Action > Stow/Draw Weapons
.
[Period]
Targeting > Show Friendly Names
1 (numpad)
[In addition/alternative to the default mapping (Left CTRL) to prevent some issues]
Targeting > Show Enemy Names
2 (numpad)
[In addition/alternative to the default mapping (Left Alt) to prevent some issues]
Misc > Town Cloth Toggle
5 (numpad)
Mighty's GW2 Profile

General
[LIST]
[*]
The profile is made for a resolution of 1920x1080
and normal UI size
.
[*]If you want to change anything have a look on the "How to modify" section below - if not don't read that section.
[LIST]
[*]You may need to change joystick sensitivity according to your wishes. But keep in mind this will also affect AoE positioning.
[*]This is just a basic layout. As example if you play necromancer, it could be worth to have death shroud (F1) on dpad.
Unshifted dpad is a good point to add some functionality for your needs.
[*]I not sure how useful the "Next/Nearest Ally" commands are. You may replace them as you need space. Also it may be a good point to replace for utilizing the "Team Cycle" command a.e. when you want to cast a glyph on an ally group member. There is also a predefined, but not mapped "Team Cycle Small" for small group icons.
[/LIST]
[*]You need a keyboard - you cannot play a mmo without.
Voice chat toggle/push-to-talk is mapped to 3 on NUMPAD
See "How to modify" to change.
[*]You should also have a mouse for the UI interaction next to you.
[*]Sometimes PGP misplace the mouse cursor probably issued by the luncher or maximizing a window. So if you own a keyboard or mouse where you can map a button to execute the batch file or even map it in the profile itself and it will kill and restart PGP for you... See how to modifiy and then adjust the path of the command wich is by default mapped to R1+Start.
Click here to download restart_pgp.bat
[/LIST]

How to play
[LIST]
[*]
Zoom out
as far as possible before/in a fight, especially for AoEs.
[*]By default you
start in PvX mode
[LIST]
[*]You gain
access to your skills by holding L1 or R1 down
.
[*]
You can always dodge [R2], (de)activate mouse/camera view [R3] and move your body and the camera with the sticks.
[*]
Call AoE
by pressing the skill combo twice. Like L1+X -> move the AoE in place while "mouse view" mode is active -> L1+X again OR you could also activate the skill as example L1+X -> release X, but keep L1 hold -> move with left/right stick -> press left stick down to execute (so you dont have to release camera movement twice)
[LIST]
[*]
Mouse View
[R3] will always place the mouse pointer a little bit above the center of the screen. Thus the AoEs are always at exactly the same position / pixel.
[/LIST]
[*]
If Mouse View is off
(mouse cursor visible) you can left-mouse click with the left stick down [L3]. If Mouse View is on you can call a target.
[*]There are
three different right-joystick sensitivities
in the profile:
[LIST]
[*]If the Mouse view is off (you can see you cursor) the joystick sensitivity is horizontal 50 and vertical 50.
[*]If the Mouse view is on (you cannot see the cursor) the joystick sensitivity is horizontal 50 and vertical 37.
[*]If you press L1 or R1 the joystick sensitivity is horizontal 45 and vertical 30. (That way you can place your AoE more precise.)
[*]All values are conservative and need further testing as also depend on personal preferences. You can easily change it - see how to modify!
[/LIST]
[*]The
panel cycle commands (L2+DPad)
break the mouse view, so you do not need to deactivate it manually before. The cycle pointer is reseted each time you activate mouse view.
[*]If the controller
vibrates
you have activated a hold-key-down command. A.e. hold and keep the right mouse button down. Also the previous enemy, call target and select call target commands have vibration feedback.
[*]You can press "select"(ps3)/"back"(xbox) button to get into UI mode - in UI mode you press the button again to get back to PvX mode.
When playing for your first time you really should not care about that! Ignore it and concentrate on the default PvX mode!
[/LIST]
[/LIST]
You should print the screenshots for quick reference and read the Legend - as also sit down and make some dry exercise a.e. with a "text editor" ;-)It will take some time to get into it, especially since you have not made the profile on your own - just do not give up after half an hour....Good luck!
wiki page - section 2.1 2.2 3.2 4.1 are copied/pasted above
http://tiny.cc/tfb2hw
most recent profile file - attached file (v1.5) below may be outdated
http://tiny.cc/tfb2hw
Changelog
[ATTACH=CONFIG]4403[/ATTACH]
legend @wiki


good luck and of course any feedback is welcome!
Updated 5/3/2013
~ The guide button now fires the Elite Skill because that just seems appropriate.
~ Implemented a new, much simpler camera control (assigned by default now) method that eliminates the cursor warping to different locations on the screen. Using this new command also eliminates the need to follow the tutorial further down the page and will have you in the game much quicker now. Hooray for progress! The old command is still in the profile just because I like it and a lot of work went into it.
~ Fixed inconsistencies between shifted and unshifted modes.

Updated 9/16/2012
~ "Butt mode" (It's best not to ask) fixed. Great work on this one Amakou!

Updated 9/3/2012
~ Added functionality whereby releasing the right stick the mouse pointer will automatically GoTo the coordinates you specify (see the tutorial further down the page). Note: the instructions further down the page instruct you on how to make the cursor GoTo a coordinate at the center of the screen. I and several other posters found this to be inconvenient since the camera control function relies on a lot of mouse clicking and resulted in a lot of targeting/auto attacking. The solution to this is to make the cursor GoTo a coordinate in an unused portion of the screen. I now have my GoTo coordinate set to warp my cursor to just above the chat window when moving the camera as you are in no danger of clicking anything important over there. Experiment with it and find out what works best for you.
Thanks to Dessa for the great idea.

Updated 8/27/2012
~ New screenshot functionality added to the back button. Press and hold the back button and the interface disappears, when you release the back button the screenshot is captured and the interface reappears. Sweet!
~ Pressing and holding the Left Bumper enables you to look behind your character. To get this to work, in Guild Wars 2 set the look behind keystroke to "U".


Greetings everyone. With Guild Wars 2 launch upon us I thought I'd post my v1.0 controller layout. I refined this layout over the final two beta weekends and am pleased to say that it works brilliantly. Essentially Guild Wars 2 can now be played as a third person action game while reclining comfortably in your chair. The thing that makes all of this feasible is there is no ground/item clicking and WASD character movement. Get near something/someone that needs to be interacted with and hit the interact key, no need to put a cursor directly on anything. Nice!

A few notes:

~ After more than a few iterations I made a design decision to only include controller commands directly related to gameplay. The way I see it is that the keyboard and mouse is better suited for things like inventory management, mail, hero panel, menu navigation, etc, so having a controller command assigned to these functions seemed useless since you are going to be reaching for your keyboard anyway. This decision streamlined the controls a bit and allowed for added functionality.

~ The right stick is your camera control like any good third person game. I find it's easiest to adjust the sensitivity and whether or not to invert the camera from within the game.

~ Disable "Double-tap to evade" in the game options.

~ To use the Look Behind command in my profile, while in-game bind Look Behind to "U".

~ The left trigger is what you will use to move your mouse pointer and cast ground targeted spells. Ground targeting was tested using an Elementalist. Here's how it works: press the button for the ground targeted spell you want to cast, pull and hold the left trigger, with the right stick position the target where you want the spell cast, press the spell button again and the spell is cast. It works wonderfully, and once you get familiar with your spells and their ranges you can turn on quick casting in the game and eliminate the need to press the spell button twice, you will just place the cursor and hit the spell button to cast it. Using a controller to cast ground targeted spells also allows for full mobility while casting, I dare you to try dodging back and to the left while casting ground targeted spells with a keyboard and mouse. Tricky at best. Another way to use the left trigger is in the map screen. Open the map and the right stick will by default drag the map around, pull and hold the left trigger to re-place or move the cursor around the map.

~ The right trigger is bound to the press and hold command Interact/Double Click. What this means is that you pull and release the trigger to interact with anyone/anything and that you pull and hold the trigger to choose dialog options, loot a corpse (turning on auto loot makes this unnecessary), or equip items from your inventory. For example, stand near a corpse and pull and release the left trigger to interact with it, then pull and hold the trigger to pick up what's on offer. I have found no situation where using a double click rather than single click creates problems.

~ There are a lot of double commands, but I maintain a button mapping philosophy throughout the the profile to eliminate confusion. For example, each character has 5 weapon skills assigned to keys 1-5. So instead of mapping 1-4 to A, B, X, Y and number 5 to some other random button I decided to assign 1-3 to X, Y, and B, and then 4 and 5 to the left and right bumpers, and like any good game A is mapped to Jump. I feel this will make remembering the assignments easier since there is no confusion as to "is 4 assigned to A, or was it B?", this way 1-3 are aligned with the top 3 face buttons and 4 and 5 are on the left and right bumpers respectively. Similarly, each character can have 3 utility skills bound to 7-9. These skills are also bound to X, Y, and B in the same way the weapon commands are mapped to the face buttons except that these skills are fired when the button is held.

~ This profile was tested using a Guardian and an Elementalist, one melee and one ranged character respectively and the same profile works very very well with both. Does anyone see any reason the profile would need specialized further for a particular class?


How to edit my profile to reposition your mouse cursor in-game if you are using any resolution other than 1680 x 1050

What this does is when you pull the left trigger the mouse cursor will jump to pre-defined coordinates. This is extremely useful for casting area of effect spells because you will no longer need to wonder where the mouse cursor is, once you pull the left trigger the cursor will be directly in front of you.
Credit goes to WitchKing for the idea

[QUOTE=WitchKing;67350]Oh cool! :smile: Yeah, I thought there must be a way of doing it, but as a complete Pinnacle noob I wouldn't have a clue as to where to even start looking! And yeah, as someone who plays at 1920 x 1080, any help on how to place the cursor would definitely be appreciated!
[/QUOTE]

Ask and ye shall receive.

As a note, if you play Guild Wars 2 at 1680 x 1050 my profile will work perfectly for you with no modifications whatsoever.

If you play Guild Wars 2 at any other resolution other than 1680 x 1050 you will need to make two simple changes (outlined in an easy to follow 16 step procedure :) ). Here's what you are going to do:

1) Determine at what resolution you play GW2. For this argument we will say it is 1920 × 1080.
2) Divide each number of your resolution by 2. This will give you 960 x 540. This is the exact center point of your screen if your resolution is 1920 × 1080.
3) Envision this, the second number (540) is the vertical number in terms of your resolution, the smaller that second number, the closer to the top of your screen your cursor will appear, this is the main number upon which you will base your preference, the first number (960) will remain constant.
4) Download my Guild Wars 2 profile
5) Open Pinnacle and import my profile
6) Imported? Good! Now from Pinnacle's main screen click Game Profiles (upper right corner)
7) Double click my Guild Wars 2 profile in the list
8 ) Press F5
9) From the commands list double click "Shift Blue ON/OFF"
10) Now, in the "activated step" field, click the "goto COORDINATES" command and click "remove step"
11) Now, from the "Choose new 'event step'" drop down menu choose "mouse goto COORDINATES" (it's about three quarters way down the list)
12) In the "X" and "Y" fields that appear below, set the "X" to 960 (this will position the cursor half way across the screen) and "Y" to 270 (this will position the cursor one quarter way down from the top of the screen) and press the "Test" button. The mouse cursor should warp to the entered positions.
13) Keep modifying "270" and pressing "Test" until you settle on where exactly you would like the cursor to end up, when you have finalized your decision press the "Activated" button. Your new command should appear below "behavior SHIFT-MODE | BLUE" in the "ACTIVATED Event" panel. Click OK. If for some reason it doesn't appear below "behavior SHIFT-MODE | BLUE" click on your newly created command and then click "Move Down" then click OK.
14) Click OK on the next screen
15) Then click Save and Close
16) Then click OK again

Now you should be able to launch Guild Wars 2 from Pinnacle's main screen and the settings you changed should be in effect. Your mouse cursor should be appearing somewhere above your character's head and the top of the screen when you pull the left trigger.


Download the profile here:
alternate profiles for this game
| | | |
| --- | --- | --- |
| | | |
| | | |
| | | |
| | | |
| | | |
| | | |
| | | |
| | | |